Christine, 32 y.o.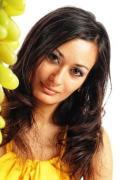 First Name:

Christine

Age:

32

Location:

Ukraine

Zodiac Sign:

Taurus

Weight:

45kg

Height:

160cm

Eye colour:

Brown

Hair colour:

Black

Body type:

Slim(slender)

Smoking Frequency:

Never

Drinking Frequency:

Never
Language:

Russian 5 (Fluent)
Ukrainian 5 (Fluent)
English 4 (Advanced)

Marital status:

Single

Want children:

Yes

Education:

Graduate degree

Job Title:

Teacher/Professor

What religion do you practice?:

Orthodox
Do I enjoy gardening?:

Don't mind helping

Do I enjoy other types of Shopping?:

I don't mind it

Do I enjoy cooking?:

I like cooking

When it comes to TV:

Opt for a movie

When it comes to money:

I spend some and I save some

Keep my space:

It's spic and span

Ideally I would like to live in a:

house in the suburbs

Do I enjoy dining out?:

Just OK

Do I enjoy grocery shopping?:

I like it very much

Preference for pets:

Don't have but like Cats, Dogs, Birds, Fish
Age:

30 - 50

Country:

Western Europe, Eastern Europe, North America, Australia

Eye colour:

Any
Hair colour:

Any

Is it okay if they have children?:

No

Body type:

Any

Smoking Frequency:

Occasionally

Drinking Frequency:

Occasionally(Socially)

Ethnic Preference:

White/Caucasian, Hispanic/Latino, South American
What type of Television programs do I enjoy watching most?:

Films, News, Documentary

I enjoy spending free time:

In Nature, Doing something athletic, Curling up with a good book, With family, Visiting a museum or gallery, Taking a walk, Pursuing a hobby, Watching TV or a movie, Among friends

Activities that I enjoy:

Camping, Swimming, Walking, Hiking

Sports that I enjoy watching and/or playing:

Figure skating, Olympic sports

Forms of entertainment that I enjoy:

Reading, Board Games , Concerts, Movies, Museum/arts, Pop Music, Classical Music, TV Educational/news, Fashion events, Rock Music

Other hobbies or interests:

Dogs, photography, social cause/activism, news/politics/events, painting, travelling
How would you describe yourself?

I am an active woman with positive view to life who wants to meet kind and serious man, my soul mate and best friend to share the rest of my life with. I will surround with care and attention a man I will fall in love.

How would you describe your ideal partner?

Kind and honest. Reliable man whom I can fully trust.

If you knew the world was going to end in 30 days, what would you do?

I would like just enjoy my life and spend time with the most important people - my family and best friends.

If you had 10 million dollars to spare, what would you do with it?

Part of it I would leave for investment and part would spend on charity. Would be great to help another people.

How often, and from whom do you ask advice?

Sometimes, with my mother.

What quality do you value most in the people of your gender?

Loyalty, kindness, honesty

What quality do you value most in the opposite sex?

The same.

What is the best advice that you will give to your children?

Be confident in your abilities and not give up in achieving your goals.

The last books that you read?

F. S. Fitzgerald "Tender is the Night"
G. Orwell "1984"
G. Garcia Marquez "One Hundred Years of Solitude "
And yet few another. I at all love to read.

What are your goals now?

At the moment to find my soul mate.

Whom do you admire?

Mahatma Gandhi.

Do you have a lot of friends?

Enough but only few of them are the best.

What qualities do you dislike most in those of your gender?

Envy

What qualities do you dislike most in the people of the opposite sex?

Rudeness, cruelty.

What would you like to change in yourself?

Even don't know. In general I accept myself as I am.

What are your weaknesses?

Excessive credulity, susceptibility.

What are your strengths ?

Honesty, loyalty, good sense of humor

How do friends view you?

My friends said that I am interesting and fun to be with. If they are right or not for you to find out

How do acquaintances view you?

Polite

Who are your favourite writers and poets?

M. Bulgakov, L. Tolstoy, E. Hemingway that is just some.

What kinds of music do you like?

A. Vivaldi "The four seasons"
P. Tchaikovsky "The Nutcracker"

What is your favourite food?

Ukrainian borsch

What are your favourite films?

Pride and prejudice
The prestige
Shutter island

What is your favourite fairy-tale?

Beauty and the beast
Star dust

What is your favourite activity or hobby?

Long walks, being at the nature, beaches, hang out with friends and spend time with family, going to the cinema, as I already said reading and many other things.

Tell us about your dream partner.

Reliable and sincere man.

Where do you want to live?

Anywhere with my second half.